#GERD#Hyperglycemia#LIPH#Fasting#HyaluronicAcid #Collagen  #LiverGallbladderCleanse #Hemp #Stress #BrainAge #Drugs #EndocrineDisruptiors #Hypertension#Microplastics #WaterSmarts #ToxicChemicals #LiverHealth #MilkThrisle #Magnesium #LiverCleanse #MedicinalMushroomsForAtheleticPerformance #BrainBoostingMedicinalMushrooms #RoyalColloids  #CalciumDGlucarate #ProteinMalfunction #MedicinalMushrooms #JapaneseLongevitySecret #PlantarFasciitis  #BlackCuminTheBlackGold #ThroatThyroidEsophagusLarynx#BasicBiohacks#SkinHealth#VariousLipids #Radiation #LungHealth #Sinkholes #Praying #HepatitisC #ImmuneBoostingFoods #ImmuneBoostingSupplements #ImmuneBoostingBiohacks #BetaGlucans #BetaGlucanKids #Phytoplankton #DetoxChampagne
For many New Year's resolutions include losing weight, eating better, healthier, and doing more to make the world a better place. The good news is, you can accomplish all these by switching to vegan diet.
Here are top 10 reasons to go vegan this year:
# 1. Slim down and become energized
On average, vegans are up to 20 pounds lighter than meat-eaters are.
Going vegan is the healthy way to keep the excess fat off for good while leaving you with plenty of energy.
# 2. Help animals:
Every vegan saves more than 100 animals a year?
There is simply no easier way to help animals and prevent suffering than by choosing vegan foods over meat, eggs, and dairy products.
# 3. Vegan food is delicious:
So you're worried that if you go vegan, you'll have to give up hamburgers, chicken sandwiches, and ice cream? You won't. As the demand for vegan food skyrockets, companies are coming out with more and more delicious meat and dairy-product alternatives that taste like the real thing but are much healthier and don't hurt any animals.
# 4.  Meat is gross and take away your energy:
Meat is often contaminated with feces, blood, and other bodily fluids—all of which make animal products the top source of food poisoning.
Most beginner vegans will get unpleasantly cold for a week or two if breathing is not incorporated, but once your blood is cleaner from obstructions and toxins, your blood vessel walls will get more flexible and stronger you will feel more energized and alive like never before.
Your body and mind will enter in the rejuvenating healing stage, you wont ever want to go back to your older sluggish version of you.  We all know how a cold shower leaves you energized and hot on the other hand makes you sluggish. Veganism is same as the cold therapy – once you get used to it, cold becomes a healer, you become your master, you become one with all
# 5.  A healthier, happier you:
According to the Academy of Nutrition and Dietetics, vegans are less likely to develop heart disease, cancer, diabetes, or high blood pressure than meat-eaters are.
Vegans get all the nutrients that they need to be healthy, such as plant protein, fiber, and minerals, without all the nasty stuff in meat that slows you down and makes you sick, such as cholesterol and saturated animal fat.
#6. Help feed the world: 
Eating meat doesn't just hurt animals—it hurts people, too.
It takes tons of crops and water to raise farmed animals.
In fact, it takes up to 13 pounds of grain to produce just 1 pound of animal flesh!
All that plant food could be used much more efficiently if it were fed directly to people.
The more vegans, the better able we'll be to feed the hungry.
#7. Save the planet: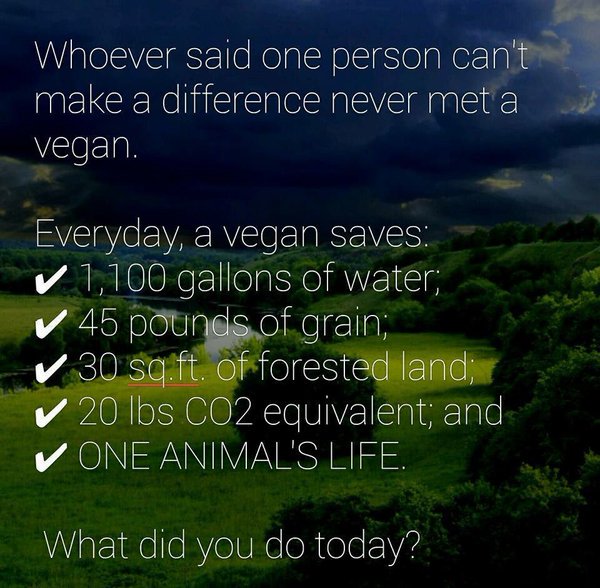 Meat is not green.
Consuming meat is actually one of the worst things that you can do for the Earth.
It is wasteful and causes enormous amounts of pollution
Meat industry is one of the biggest causes of climate change.
Adopting a vegan diet is more effective than switching to a "greener" car in the fight against climate change.
And if you dont want to be this monster in the kids eyes, never have to say:
then, its time for a CHANGE, time for ACTION
#8. All the cool kids are doing it
The list of stars who shun animal flesh is basically a "who's who" of today's hottest celebs.
Joaquin Phoenix, Natalie Portman, Ariana Grande, Al Gore, Flo Rida, Tobey Maguire, Shania Twain, Alicia Silverstone, Anthony Kiedis, Casey Affleck, Kristen Bell, Alyssa Milano, Common, Joss Stone, Anne Hathaway, and Carrie Underwood are just some of the famous vegans and vegetarians who regularly appear in People magazine.
Vegans tend to be thinner than meat-eaters and have more energy.
Vegans are also more aware and posses more intense senses especially of humility towards all living which makes vegans more humane and intelligent in general and yes "Intelligence is sexy"
Dogs' lovers may not agree with me here, but pigs are smarter than your dog: Although most people are less familiar with pigs, chickens, fish, and cows than they are with dogs and cats
Animals used for food are every bit as intelligent and able to suffer as the animals who share our homes are.
Chickens are so smart that their intelligence has been compared by scientists to that of monkeys
And if you've just noticed, there are just 9 reasons, make #10 your very own – promise you,  this will be the most important for you!
NOAGENATION.COM